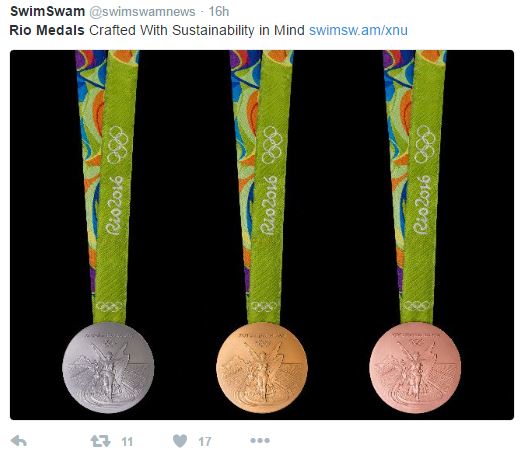 The 2016 Olympics are underway and the medals that the world's best athletes will compete for are extra special this year.
30 percent of every medal is composed of recycled metal as sustainable sources was a big theme for the Rio Olympics.
The medal's ribbons are composed from recycled plastic bottles, their cases are made from freijó wood certified by the Forest Stewardship Council (FSC) and even the podiums are made from organic materials, which will be used as furniture when the Games are finished.
The Brazilian Mint, in collaboration with the International Olympic Committee, designed medals depicting Nike, the Greek god of sport, as well as laurel leaves, the symbol of victory in ancient Greece.
The gold, silver and bronze medals each weigh 500 grams, but any athlete thinking that winning the gold will also net them a cool £16,000 in gold bullion will have to make do with the incredible sporting accomplishment as the "gold" medal will actually only contain 6 grams of gold.
The medal is actually made of .925 fine silver and the remainder of the alloy being copper and plated with pure gold.
If you're wondering what a gold medal would sell for, one from London 2012 just sold at auction for over £40,000 at auction.
ADVERTISEMENT
Have you secured your historic "Brexit" 1oz Silver Commemorative yet?
The decision to leave the EU is the most historic political moment for decades – maybe even centuries.
Over 500 Coin Portfolio Management clients have already secured the Fine Silver Commemorative Issue to mark the moment we discovered that Britain had voted to leave the EU.
Have you secured yours yet?
The silver proof commemorative has an edition limit of just 2,016, so please move quickly to secure this important piece of British history for your Portfolio.