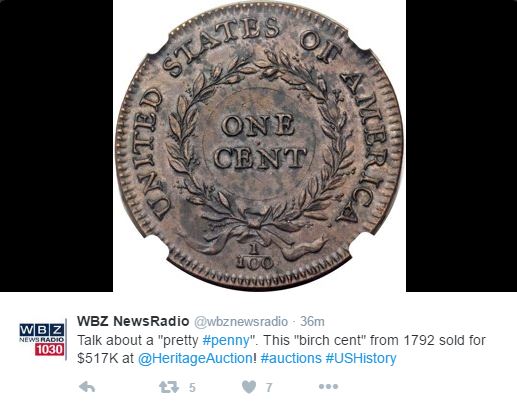 The hammer just came down on two of earliest coins issued by the US Mint, with one of them selling for over half a million dollars.
The 1 cent copper coins, both dating to 1792, went for a combined total of $869,500 at the auction held in California at the start of the month – 43 million times the combined face value of the coins.
One of them, known as the 'Birch Cent,' sold for $517,000. The other, known as the 'Silver Center Cent,' went for $352,500.
The auctioneer could not explain why one coin proved more valuable than the other, saying that the market just responded differently to the two.
The 'Silver Center Cent' is among the very first coins ever struck by the US Mint in Philadelphia.
Huge Historical Significance
America's Founding Fathers wanted to differentiate themselves from British coinage and British rule and such coins are an example of the transition in American history from the colonies to a new republic.
Both coins have the words 'Liberty Parent of Science & Industry' on them, which shows how the United States was trying to distance itself from the religious persecution and monarchy it associated with Britain.
Classic coins with a rich and fascinating history will always be popular among collectors and investors, so make sure your Portfolio contains a selection.
ADVERTISEMENT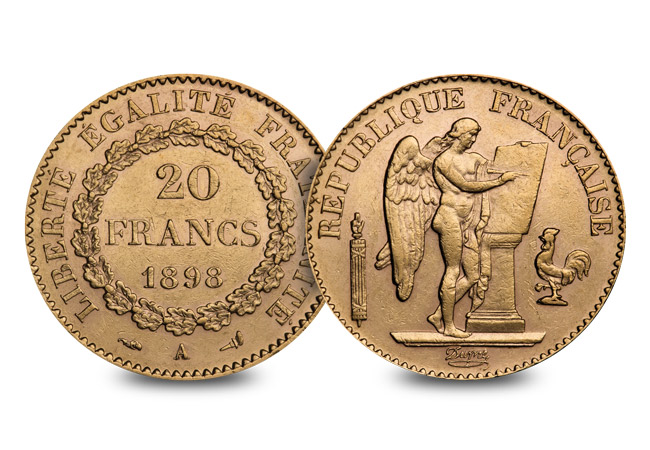 Our most popular classic coin of the year
The coin you see here is a 100 year old "lucky" gold coin and it's the classic gold coin that Coin Portfolio Management clients have added to their Portfolio more than any other this year.
The French Gold Angel is a coin that may have saved its designer from the guillotine, kept countless seamen and fighter pilots safe and it may have even cost Napoleon victory at the Battle of Waterloo.
I'm working hard to get more in, but for now there are just 2 available.
Click here to read the full story about the Lucky Angel and make one of them yours