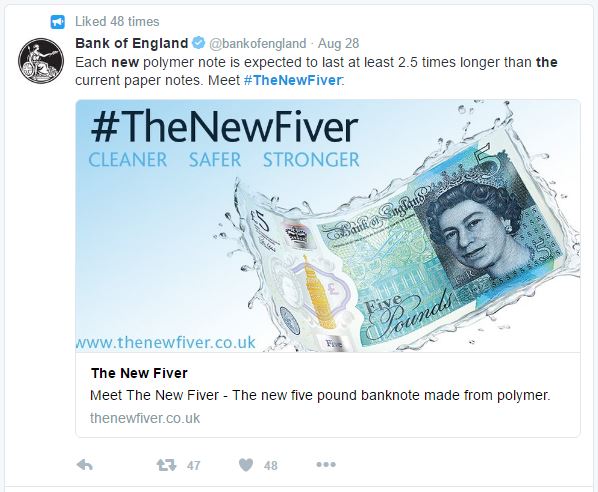 Go to the bank or pay in cash somewhere tomorrow and you may well receive a first of its kind here in the UK. That's because the brand new polymer £5 note launches tomorrow.
The old paper £5 is being replaced by this new plastic note, with the cut-off date for shops accepting your old fivers being May next year, so you have a bit of time yet.
The new note is made of a polymer, making it harder to forge or accidentally destroy – how many of us have lost money by leaving loose notes in pockets and giving them a spin in a washing machine?
440 Million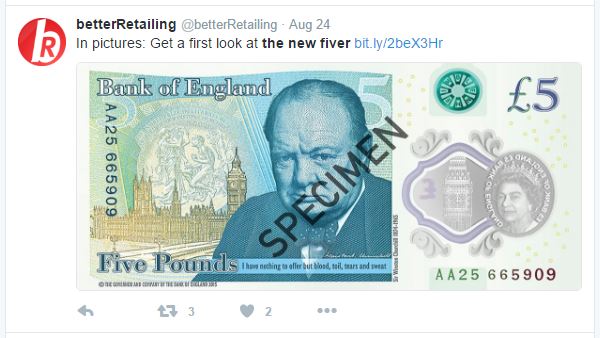 The Bank of England have printed 440 million of the new notes. Or, to put it another way, £2.2 billion worth of fivers.
The new £5 note will feature a picture of Winston Churchill, replacing Elizabeth Fry and it will be 15% smaller than the current one.
This is the first of the Bank of England's new series of polymer notes, with the £10 and £20 notes to be replaced with polymer designs over the coming years.
The new polymer £10 note featuring Jane Austen will enter circulation in summer 2017 and the new polymer £20 note featuring JMW Turner will enter circulation by 2020.
ADVERTISEMENT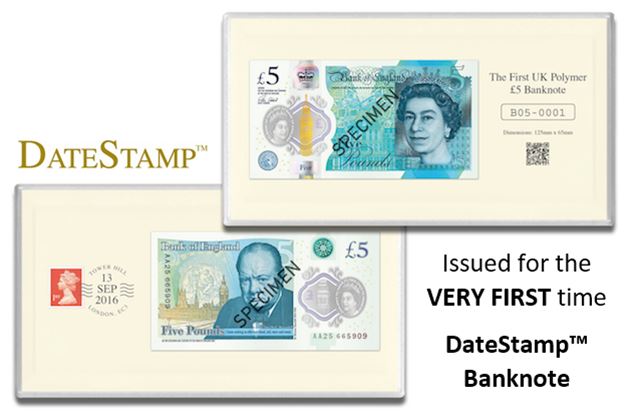 The UK's first ever DateStamp™ Banknote
To mark this important event, a First Day of Issue Limited Edition DateStamp™ release has been confirmed.
This is the VERY FIRST time that a DateStamp™ banknote has been released and you can be one just 5,000 people to own one by clicking below.
Click here to add the FIRST EVER DateStamp banknote to your Portfolio