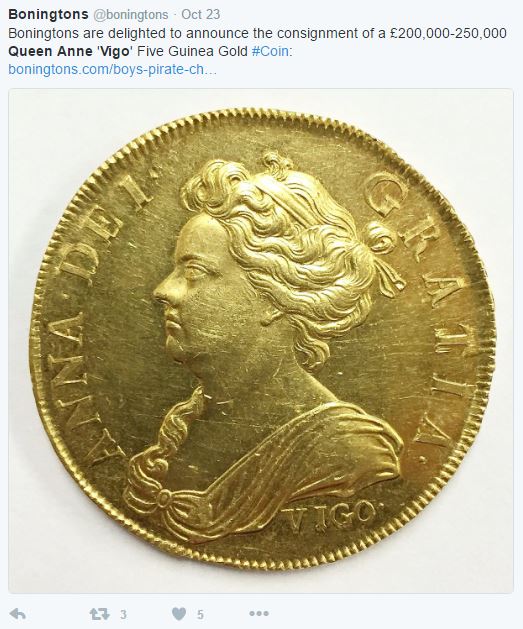 The rarest British coin ever made has been found.
In a 4-year-old's toy treasure chest…
The coin, a Queen Anne Vigo coin, was passed on to a 35-year-old labourer from Essex by his late grandfather. He gave the coin to his 4-year-old son to play with when he bought him a toy treasure chest.
Fortunately, he took the coin to an auctioneer before it was wrecked just to check if it was worth something.
The shocked expert told him it was worth £250,000.
The labourer had to return the following day to check the expert hadn't been pulling his leg.
The expert of Bonnington Auctioneers of Epping, Essex, said: "When I told him it had been verified and what it could be worth, he couldn't believe it.
"One of my colleagues saw him get back into his car and it was a real Del and Rodney moment. You could hear shouting and screaming from the car park and the car began to rock from where he was celebrating."
The Queen Anne Vigo coin
The coin was one of only 20 ever minted.
It came from 7.5lbs of gold seized from Spanish treasure ships by the British in 1702 following the Battle of Vigo.
The last one to sell went for nearly £300,000 at an auction in 2012.
The newly found coin is one of just 15 examples known to exist today. It will go under the hammer on 16 November.
Perhaps the other 5 are just waiting to be found.
________________________________________________________________________________________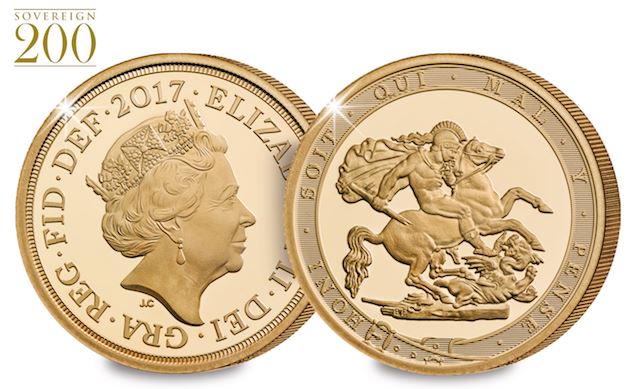 Own the most important UK Gold Sovereign in 200 years
2017 is the bicentenary of the "modern" gold sovereign. It is without question the most important numismatic anniversary for decades.
And now you can mark it with The Royal Mint's brand new 2017 Gold Proof Sovereign – featuring a special one-year-only design change for the occasion.
To secure what is destined to become one of the most collectable 21st Century British gold coins, simply click here.