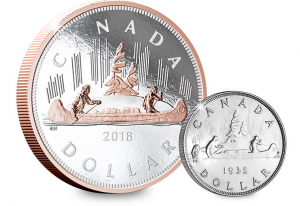 It's only just turned October but one of Canada's commemorative coins for next year has SOLD OUT already. Why? Because The Royal Canadian Mint has chosen to honour one of the most iconic designs from its history with a huge 5oz silver issue.
The design in question is the "Voyageur" Dollar – seen on the right. But just why is it so important?
The history of the Voyageur Silver Dollar
The Voyageur Silver Dollar represents a pivotal moment in the evolution of Canadian national identity.
Until the start of the 20th century, The Royal Mint in London was chiefly responsible for striking all Canadian coins, but as Canada grew as a nation in its own right, the need for its own domestically stuck coinage became clear, prompting a branch to be built in Ottawa which opened in 1908.
However, it wasn't until over 20 years later that the new branch would strike a coin that was truly Canadian – The Voyageur Silver Dollar.
The coin that symbolises Canada
The Voyageur was the new Mint's first fully Canadian circulation coin design.
Its design featured a "voyageur" (an unlicensed fur trader) and Native person paddling a canoe in tribute to the fur trade – the industry that founded the nation.
The image of a vast untamed frontier it conveyed made it one of the most popular coin designs ever to enter circulation in Canada.
Emanuel Hahn's image of two men in a canoe changed the face of Canadian coin design thereafter.
Following its release, all Canadian circulation coinage adopted distinctly Canadian reverse images – and has done ever since.
So when the decision was made to mark this history with a world-first 5oz silver issue it's really no surprise it SOLD OUT before the year it is even issued.
---
You can still make one of them yours…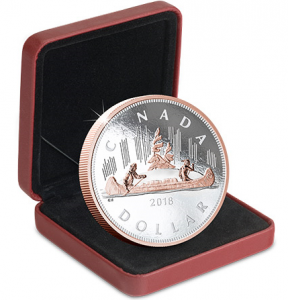 The whole edition limit was fully reserved before the coin's release date, but not before 20 were secured for Coin Portfolio Management clients.
Struck to a pristine Proof finish from 5 ounces of Pure Silver, this is a special coin to have in your Portfolio. You'll have to be quick to secure one though.
Click here for your chance to own the Canadian Voyageur Silver Dollar