One event has dominated the collecting landscape this year – Her Majesty's 70th Wedding Anniversary.
But how do you know which coins commemorating the event to add to your collection?
It's impossible to own all of them with coins issued from here to Australia and back again, so I have picked out my top 3 recommendations.
3 options, 3 different metals, 3 different price points.
Starting with one of the most limited releases I have ever seen…
The Scarce Gold 50p Proof Set
With just 25 sets authorised, this is one of the most limited releases I have seen all year.
It's a stunning set of eight 50p coins, all struck to a perfect Proof finish from 22 Carat Gold.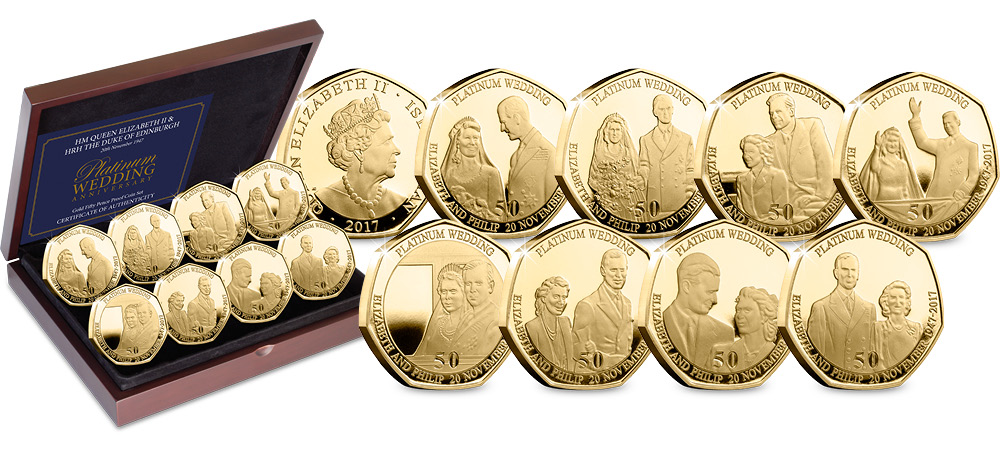 Each Gold 50p features an engraving of the Queen & Prince Philip during their engagement, wedding or honeymoon in 1947 as this set has been issued to celebrate the couple's 70th Wedding Anniversary.
50p coins are extremely popular with collectors, so this was always going to be a top recommendation.
But with just 25 struck, it's only available by application – either by phone on 0330 900 1180 or by completing the form on the link below.
One can be yours for £7,995 or an initial payment of £799.50 followed by nine monthly interest-free payments of £799.50.
Click here to find out more and complete the form
The Connoisseur's Silver Choice
With sell-outs looking likely across the UK range, there doesn't seem to be a bad choice, but one coin stands out for me above all others.
It's the Silver Proof 5-ounce £10 coin.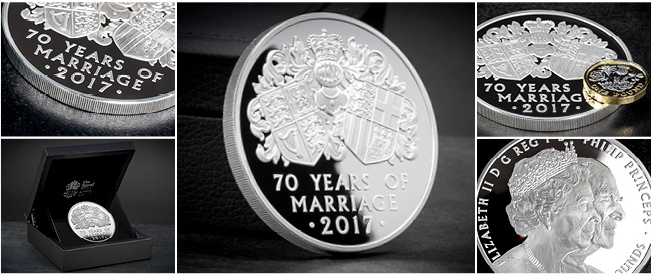 The reason? Simple mathematics.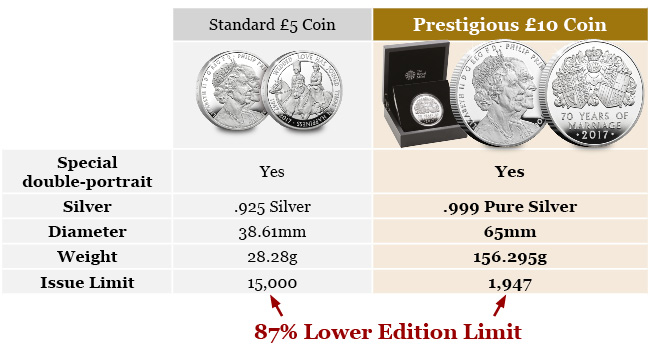 So, the prestigious £10 5oz Silver Proof Coin is struck from a higher grade of silver, almost double the diameter and 5.5 times heavier than the standard £5 coin.
Most importantly it's 7.5 times rarer.
In years to come, which one will be harder to find?
That's why I believe the 5oz Silver Proof is the connoisseur's choice. It can be yours for just £450 or an initial payment of £45, followed by 9 monthly interest-free payments of the same amount.
Click here to add the UK 5oz Silver Proof Coin to your collection
The First Ever Commemorative Platinum Penny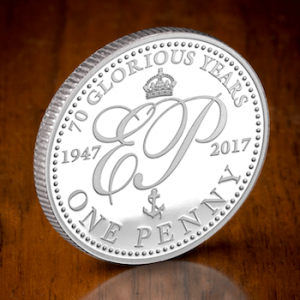 This one is as simple as it is unique. Just 995 Proof Platinum Pennies have been authorised for release.
It's the FIRST and ONLY time a commemorative Penny has been authorised to be struck in solid Platinum within the British Isles.
Special Penny issues are rare and very popular amongst collectors.
Because of the unprecedented nature of this issue, demand has been very high, but you can still add one to your collection if you're quick.
At just £295, this one is too good to ignore.