It has been an important year for collectors, with big collecting events like The Queen's Sapphire Jubilee at the start of the year and her and Prince Philip's Platinum Wedding Anniversary just last month.
Between those two events, the first ever double-thickness (Piedfort) Sovereign was issued and sold out immediately and now, as the year draws to a close, the brand new 2018 Proof Sovereign has been released featuring a mint mark for the first time ever.
So what are my favourite coins of the year? Watch the video below to find out.
---
If you're interested…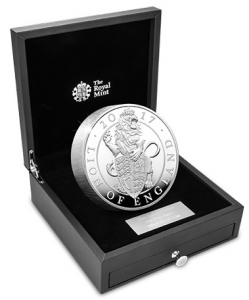 Rather remarkably, you can still add the UK's first ever 10 ounce Silver coin to your Portfolio. But with a strict edition limit of just 750 and as a first-of-a-kind coin with worldwide interest, it won't be long until I'm unable to offer you the Lion of England 10oz Silver Proof Coin.
Click here to find out how you can own reserve your coin today for an initial payment of just £99.50