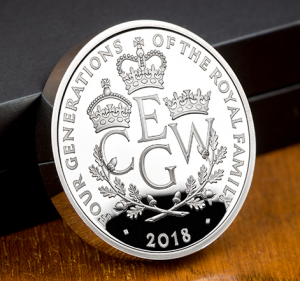 The Royal Mint have marked a historic moment in Royal British history on a brand new £5 coin that's been released today.
For the first time in over a century the Royal Family is represented by four generations of monarchy.
The Queen reigns amongst the three future kings – her son Prince Charles, her grandson Prince William and her great-grandson Prince George.
Sapphire Anniversary Year
The coin marks the start of a momentous year for the Royal family, as 2018 sees the sapphire anniversary of Her Majesty the Queen's Coronation – 65 years since millions of people watched the first televised Coronation.
I'm sure I don't need to remind you of last year's UK Sapphire Jubilee issues that sold out in record time.
All the limited edition Proof coins completely sold out within a week of the anniversary.
It's no surprise as to why – if you look back at previous Jubilee anniversaries for the Queen, each have caused a collecting frenzy.
The Future Kings
For the UK Four Generations coin the Queen is joined by her successors.
All four generations are brought together in one design by heraldic artist Timothy Noad, representing the heritage of the House of Windsor.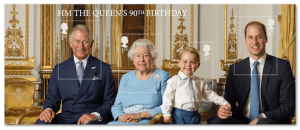 It is reminiscent of the Royal Mail stamps released in 2016 to mark Queen Elizabeth's 90th birthday.
The stamps received worldwide recognition and Prince George's first class impression was particularly popular.
If the Four Generations is anything like the stamps and the Sapphire Jubilee issues, a sell-out could be on the cards.
---
If you're interested…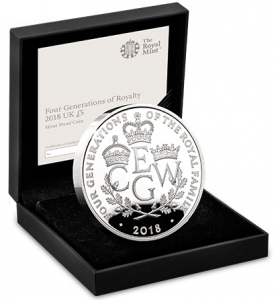 This new release is the first time that The Queen, Prince Charles, Prince William and Prince George have been honoured together on a coin produced by The Royal Mint.
The Silver Proof issue is strictly limited to just 5,000 coins – 10,000 less than the last UK Silver Proof £5.
Many collectors will miss out with such a surprisingly strict edition limit for such a prestigious British Royalty themed release.
Make sure you're not one of them.