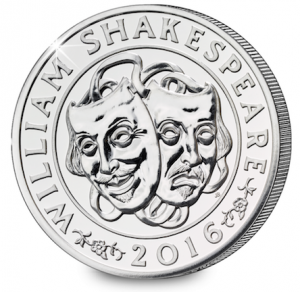 A little over a year ago, The Royal Mint released a new silver coin to mark the 400th Anniversary of William Shakespeare's death.
In its own right, this is not an exceptional event except for one thing.
The Royal Mint chose to issue the coin as a high face value silver piece, available for the price of its notional face value – £50.
It's the last £50 the UK issued.
A Collecting Sensation
Now these "face value" silver coins have become something of a collecting sensation with British collectors over the last few years, seeing many sell outs, often of record-breaking numbers.
First introduced with St George & the Dragon £20 Silver Coin, 250,000 pieces sold out. A record for any UK silver commemorative coin.
It was followed by a £100 Big Ben coin, released in December 2015, that totally sold out within 11 days. I'm pretty sure that's another record.
More significantly, the Shakespeare £50 coin, had an edition limit of just 15,000 – the lowest of any Royal Mint high face value silver pieces and an incredible 85% reduction in mintage from the last £50 Silver Coin, which was limited to 100,000 coins.
Unsurprisingly, it completely sold out, so you and many thousands of collectors missed out.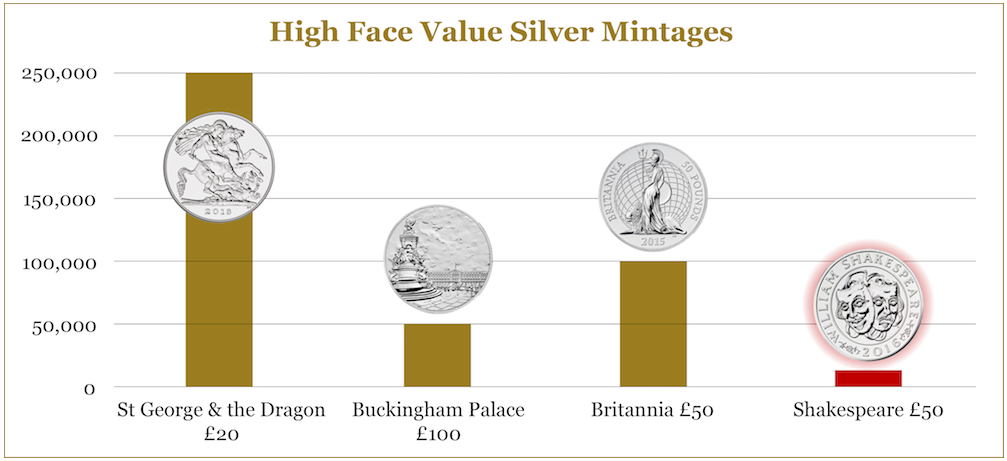 Why are these coins so collectible?
So why are high face value silver coins like the Silver Shakespeare coin so popular with British collectors?
Like all British Commemorative Coins they fulfil the strict criteria for a legal tender coin but they're not common currency that can be spent in shops or cashed in at the bank. However, that's not stopped British collectors being captivated by owning a limited edition fine silver coin for its exact face value.
The reasons are simple:
They celebrate some of the most important national anniversaries and events
They are some of the most classically designed coins issued by the Royal Mint
Struck from 999/1000 pure silver, they offer uniquely good value for money
They have seen some incredible sell out records

Scarcer than ever before
Struck from 1 ounce of Fine Silver, the Shakespeare Coin is the scarcest of any high face value silver coin issued by the Royal Mint. Its mintage of just 15,000 pales into insignificance set against previous £20 and £100 sell outs and the 100,000 edition limit for the last £50 Silver Coin.
---
If you're interested…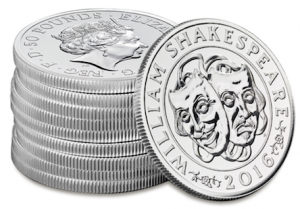 I predicted the Silver Shakespeare coin was a hot sell-out prospect and was able to secure as many as I could for CPM.
I have just 100 of this sold out coin.
I recommend you add the Shakespeare Silver Coin to your collection today.