Today marks the centenary of the world's first ever independent air force, the RAF.
I'm sure you'll agree, the Royal Air Force is still as important today as it was when it was first formed in 1918, protecting the skies above Britain and lending a hand in time of need – in recent winter storms the RAF aided snowed-in communities, supplying emergency food and fuel.
Celebrating a century since formation, the RAF has numerous events happening all over the UK this year.
One particular date to mark in your calendar is 10 July, which sees a spectacular public celebration of the work of the RAF starting with a service from Westminster Abbey in the presence of veterans and cadets, followed by what promises to be one of the largest fly-pasts in recent times down The Mall and over Buckingham Palace.
Marking the Centenary
The Royal Mint have joined in with the event and created a series of 5 UK £2 coins celebrating the centenary.
The series starts off with a design featuring the original RAF badge, which has varied very little over the last 100 years and is a symbol of the RAF's continued strength and resilience.
The remaining coins in the series commemorate the leading aircraft within the RAF – the Spitfire, the Avro Vulcan, the Sea King Helicopter and the RAF's newest aircraft, the Lightning II.

Historic anniversary fuelling record demand
Demand is already high for this landmark anniversary and it will only increase as celebrations bring it further in to the public eye.
The RAF Centenary is made all the more poignant by the fact that it falls in the same year the nation marks 100 years since the end of the First World War.
I've already seen a steadily growing demand for £2 coins in the last few years and I believe these will be amongst the most popular coins issued this year.
---
If you're interested…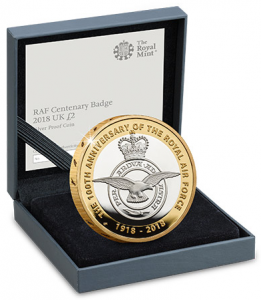 The Royal Mint has also announced the release of extra-special Silver Proof versions of the coin.
With a strict edition limit of just 7,500 coin – an extraordinarily low edition limit for such an important anniversary – I recommend starting your RAF £2 collection with the Badge coin today.
Click here to secure yours for the Royal Mint issue price of just £67.50