The most expensive coin ever sold is the "Amon Carter" Flowing Hair Silver Dollar. It last sold in 2013 for $10m, but how does a coin get the same price tag as a small island, especially when the scrap value of the coin is a measly $12 for its silver content?
It ticks all of the boxes for what to look for when buying a classic coin – rarity, condition and cultural value, but there's one key selling point that sets this coin apart.
It is believed to be the first dollar ever to be struck.
If it is the first ever dollar, it would mean President George Washington himself would have personally inspected it.
At the very worst, it is one of 1,758 struck on 15 October 1794 at the fledgling Philadelphia Mint. Only about 130 of which survive today and this is highest quality example known.
How much will it sell for next time?
It's impossible to know what this coin is worth today, but one thing is for sure – the price has only been going one way for last 70 years:

1947: Sold for $1,250
1984: Sold for $264,000
1991: Sold for $506,000
2002: Sold for $2,000,000
2010: Sold for $7,850,000
2013: Sold for $10,000,000

The romance and history attached to this coin is what makes it so interesting and the fact that it is either the first or one of just a few known to exist is where the price tag comes from.
Classic coins like this are fascinating and the good news is that you don't need to spend millions to secure one for your collection.
Coins that shouldn't exist, coins that caused outrage on their release and even lucky coins that fighter pilots took into battle with them are all available for hundreds of pounds or less.
And they all have one thing in common – they all tell a fascinating story. What more could you want from a coin?
---
Own a 130 year old coin that shouldn't exist for just £75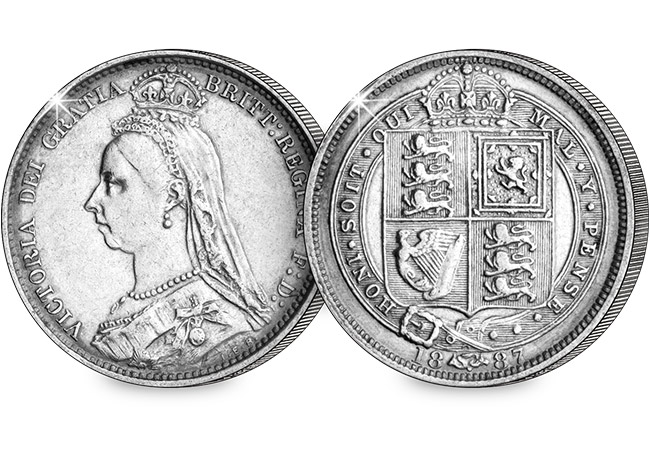 It all came from a simple mistake. In 1887, new coin designs were to be issued for Queen Victoria's Golden Jubilee. Surprisingly, the Silver Sixpence shared the same design as the Gold Half Sovereign.
Of course, it didn't take long for some crafty opportunists to start coating the Silver Sixpence in gold paint, realising they could easily be passed off as the far more valuable Half Sovereign.
The authorities hastily withdrew the Sixpence and a quick redesign took place, with the new 1887 Sixpence reverting to a design similar to previous years, with a crown at the top of the design and a wreath around the sides, with "SIX PENCE" written across the middle of the coin.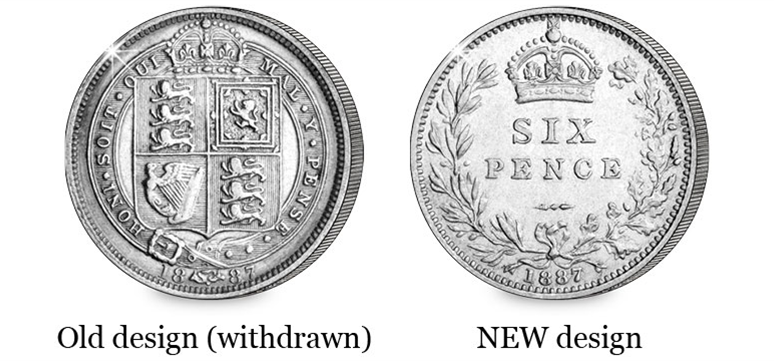 There was no chance of the new design being confused for a Half Sovereign, no matter how much gold paint was used.
How rare are 1887 Withdrawn Sixpences?
Nobody can be sure as mintage figures only record how many Sixpences were issued each year, rather than individually listing each design type and, because there were three different designs of the Sixpence in 1887, it's impossible to know how many withdrawn coins survived.
One thing is certain though, the withdrawn coin is the Sixpence collectors hunt high and low for.
Now for some good news…
They are surprisingly affordable
Despite the fact that these coins are 130 years old and, effectively, shouldn't exist, you can make one yours for just £75.