HM Treasury has just announced a special 50p coin to mark Britain's exit from the EU, during the last Budget before Brexit.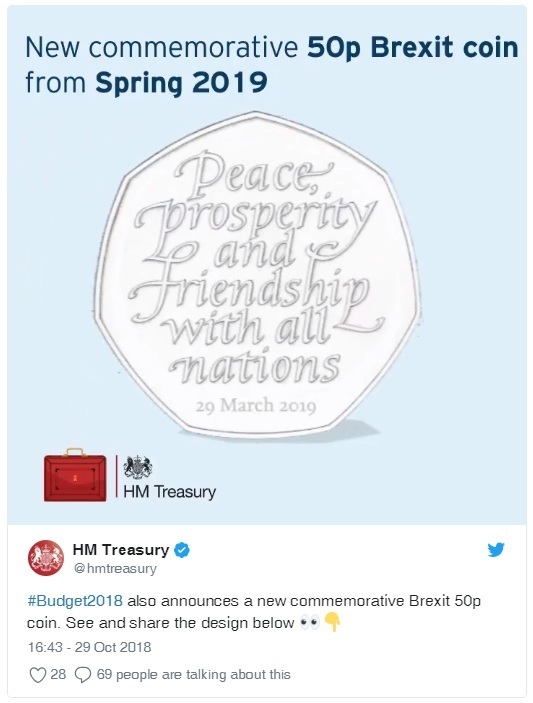 It will be released on 29 March next year – the day we officially leave the European Union.
In 1973 the Treasury issued a commemorative 50p to mark joining the EEC and another in 1998 to mark 25 years of membership of the EU.
'Friendship With All Nations'
The coin will bear the phrase 'Peace, prosperity and friendship with all nations' on the reverse, with The Queen's effigy on the coin's obverse.
It seems inspiration has been drawn from former US President Thomas Jefferson's quote – "Peace, commerce and honest friendship with all nations; entangling alliances with none."
No European Counterpart
Whilst UK collectors will be able to mark the historic day Britain leaves the EU, collectors on the continent will see no such coin.
Brexit will not be commemorated with a coin across the channel, with the EU already saying it has no plans to mint a special euro coin for the event.
---
If you're interested in Brexit-themed commemoratives…
If you'd like to be the first to know about future numismatic releases being issued to commemorate Brexit, please just complete the form below and we'll let you know about them as soon as they're announced.