With the year quickly drawing to a close, now is the time to make sure you don't miss out on 2018's most collectable coins.
I have picked out just 3 coins that should be in your collection and I will reveal them over the next few weeks, detailing what makes each coin so exceptional.
The first one on my list is my top tip for a coin you simply must not miss out on…
It's a beautiful pure gold coin featuring a 65 year old portrait of Her Majesty that has been used on a coin just once before.
You can see it here: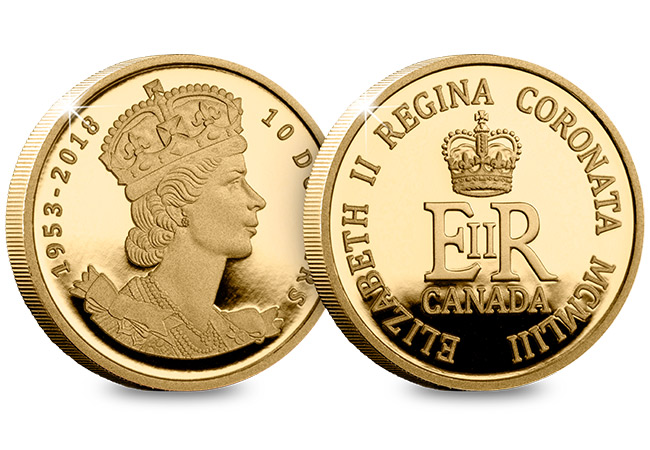 You need to go back 65 years to understand the importance of this portrait.
In 1953, EVERY school child in Canada was given a medal featuring this stunning portrait of a very young Queen Elizabeth II.
It was issued to mark Her Majesty's Coronation and now The Royal Canadian Mint has put that long forgotten portrait on a coin for only the second time to celebrate the 65th Anniversary of the Coronation.
It was last seen in 2003 for the 50th anniversary of Her Majesty's Coronation.
Most importantly, it has been limited to just 1,200 coins. Put that alongside the UK Proof Sovereign, which sold out all 10,500 coins this year and you see why this is my top tip.
The most important Canadian coin for years
That's the title I gave it when I saw it for the first time just a few weeks ago. The reason was obvious…
4 years ago The Royal Canadian Mint launched a series of 1/4oz Gold Proof coins in the run-up to Her Majesty becoming our longest reigning monarch. 1,500 coins sold out and since then I had been waiting for the Canadians to issue another 1/4oz Gold to recommend.
This was it.
200 already sold to CPM clients
Unsurprisingly, this has been our most popular coin in recent weeks, with 200 already snapped up by other CPM clients.
My remaining stock is not going to last long, so to avoid missing out on my top tip for 2018, I suggest you move to secure yours now.
You can make one yours for an initial payment of just £59.50. Just follow the link below and select the option to pay by interest-free instalments.
Click here to secure the most important Canadian coin for years