The Sovereign dates back over 500 years and, in that time, there have been numerous special issues and fascinating stories.
But you probably don't know the one about secret experiments done with gold containing traces of arsenic and lead that created a Sovereign said to be indestructible…
It was 1859 and a new shipment of gold had just arrived at The Royal Mint headquarters at Tower Hill, London. It didn't take long for the gold to be rejected though as it was found to contain traces of antimony, arsenic and lead.
The gold was simply too brittle to use for striking Sovereigns.
Enter the Chemist
George Ansell, a former chemist, was working at the Mint at the time of the tainted gold delivery. He asked if he could experiment with it in secret to see if he could rescue the shipment.
The results were incredible.
So successful was he that the alloy he created was even tougher than that of the usual Sovereign.
The story goes that no ordinary man was able to destroy Sovereigns struck from Ansell's gold with a pair of pliers (please don't try this at home).
The second secret – hidden in Queen Victoria's hair
Ansell-type Sovereigns were struck for one year only (1859), but how do you tell the difference between that and a normal Sovereign?
You look at Queen Victoria's hair.
They are only identifiable by the presence of an additional line on the ribbon used to tie back Victoria's hair.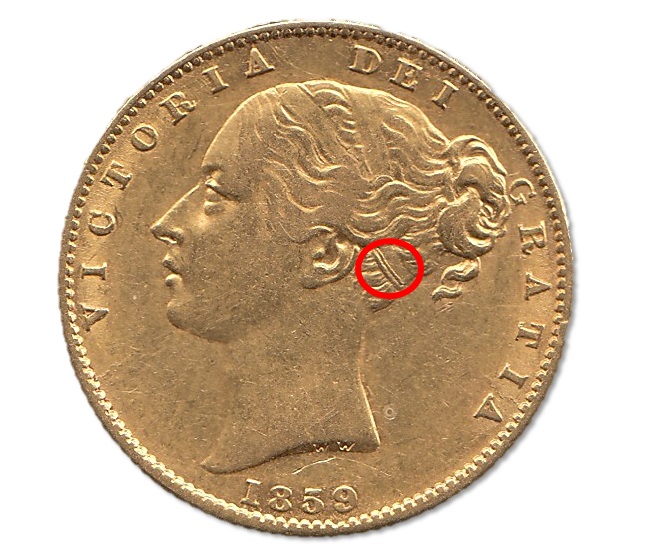 Unsurprisingly, they are very difficult to find. With such a fascinating story, collectors love them.
---
If you're interested…
They're not easy to source, but, for the first time in my life, I have just seen an Ansell-type Sovereign.
If you consider yourself a serious Sovereign collector, this is the showpiece Sovereign you have a genuine chance of owning. It's not cheap (how could it be?), but you have the chance to own one today.
It's available for £9,995 or £999.50 a month for 10 months, interest-free. I can't put it on our website, so please just complete the enquiry form below and we'll get back to you.