Coins with glow-in-the-dark technology, pieces of meteorite in them or the latest minting innovation all have one thing in common – they are unique editions.
These unique editions are amongst the most collectable coins issued in recent years; coins with an undeniable "wow factor".
What makes them so collectable?
These coins are miniature works of art. Exciting, creative, sometimes even mind-blowing works of art.
They build on the centuries of minting history wrapped up in coins like the Sovereign and push the envelope in the most creative ways imaginable.
Consistently Low Edition Limits
These coins – because of their artistry and the high skill level required to produce them – have consistently low edition limits.
Repeated quick sell-outs is the norm – the only thing that is normal about these coins.
In many ways, these are the most innovative and unusual coins in the world.
Difficult to Source
The problem is that they are very difficult to get hold of. As I said, they sell out quickly and very few of them make it to the UK.
Just recently we were able to offer the remarkable St Paul's Silver Kilo coin, which used a new "8-Layer" or "Multi-Layer Minting Technique", where the centre is sunk into the coin and the design then rises to create a domed effect.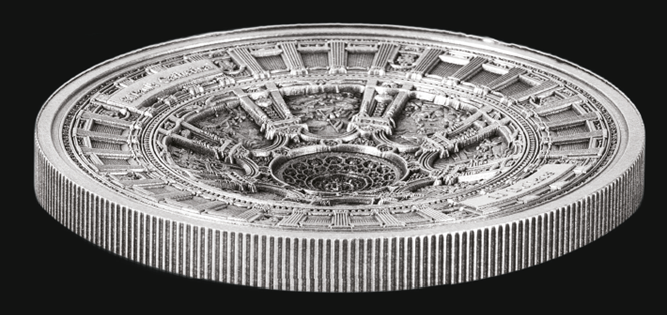 The level of detail is ground-breaking. I would have thought it impossible to have such detail on a coin until I held it in my hand.
Unsurprisingly, we sold out our stock as soon as we were able to offer them.
Keep your eyes open for more of these unique editions – including the one below – but you will have to be quick because stock will be very limited and sell-outs seem inevitable.
---
If you're interested…
This rectangular coin from Canada commemorates the country's unexplained phenomena – on this occasion, Canada's best-documented "UFO crash". Not the most obvious recommendation for your collection, but stay with me…
What makes this coin so enthralling for collectors, beyond the unusual shape, is the minting technology used, which incorporates a glow-in-the-dark feature.
When you flash the blacklight torch (which is included) on the coin, the whole design is illuminated, showing what the UFO may have looked like as it crashed into the harbour.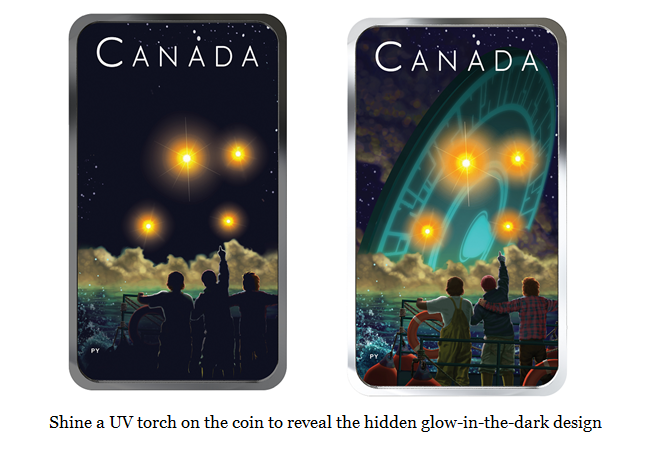 The only other coin like this issued by Canada last year sold out in record time, made the national news and starting selling at 5 times its original price as desperate collectors who missed out scrambled to get one.
I'm certain this one will sell-out fast again.