Man landing on the moon, The Beatles playing their rooftop finale, nearly 400,000 people flocking to Woodstock and Concorde flying for the first time all happened in 1969.
But for coin collectors one thing from 1969 stands out above all the rest – the very first 50p coin being introduced.
Decimal coins had already begun to be introduced in Britain, with the 5p and 10p coins entering circulation the previous year, but it was the 50p coin replacing the old 10s note that really made it feel like decimalisation was happening.
A lasting legacy – in every way
As well as paving the way for the full decimalisation to come on February 15 1971 , the move to a 50p coin was also made to save money.
A 10 bob note lasted about five months, whereas a 50p coin was expected to have a life of 50 years.
It was the only hexagonal coin in the world at the time and an amazing 188 million were produced in 1969 alone.
1969 – the 50p sell-out number
The Royal Mint issued a 50th anniversary set of Silver 50p coins at the start of the year, taking the unusual step of reissuing the most loved 50p designs of the last 50 years.
1,969 sold out in hours.
A few months later, they issued an exclusive set of 5 iconic military Silver Proof 50p coins reissued in 2019 for the 50th anniversary.
This new set sold out inside 3 hours. The edition limit? 1,969.
There's no doubting that the 50th anniversary of the 50p has been the collecting theme of the year and there's no doubting the edition limits that seem to guarantee a sell-out.
---
The new 50th Anniversary of the 50p issue
Now, Jersey and Guernsey have united to release a brand new pair of Silver Proof 50p coins, using the original 1969 designs exactly as they appeared on the very first 50p coins of each island.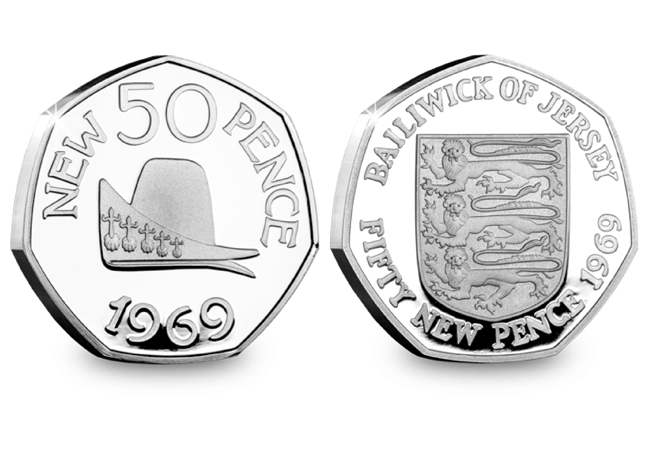 That's the Jersey Coat of Arms on one and the Ducal cap of the Duke of Normandy on the Guernsey coin.
The most significant thing about this new 50p issue though is the edition limit.
You guessed it – it has been set at just 1,969, so a quick sell-out looks assured.
Click here to secure the new 50th Anniversary of the 50p issue