It's fair to say that Her Majesty has an enviable selection of jewellery and she's certainly keen to display it when the chance presents itself.
There is one piece of jewellery that many believe she favours above all the rest.
It has been worn by a succession of royal women from the Queen Mother to the Queen through to the Duchess of Cornwall and the Duchess of Cambridge.
The Maple Leaf Brooch
The Canadian Maple Leaf Brooch is a large statement piece that showcases the beauty of the leaf's distinctive shape. It measures 5cm x 5.5cm, and has brilliant baguette-cut diamonds set into a platinum mount.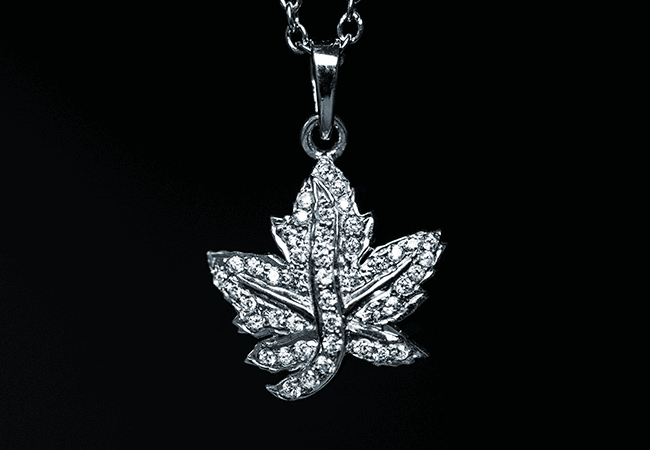 It was a gift from King George VI to his wife the Queen Mother to mark their visit to Canada in 1939, the first tour of the country by a reigning monarch.
The Queen, then Princess Elizabeth, was loaned the iconic piece for her first visit to Canada in 1951, and after she inherited it, lent the brooch to Camilla for her inaugural trip to the Commonwealth country in 2009, and to Kate for her first official Canada visit in July 2011 with William.
But the brooch is also worn on these shores. Her Majesty has worn it to Canada-related events in Britain and she choose it for her 'CANADA 150' portrait in 2017 when Canada celebrated its 150th birthday.
From the Queen's collection to yours
Whilst it's virtually impossible to own the real thing – The Queen's personal jewellery is stored in a secured space (a former air raid shelter) 12m beneath Buckingham Palace – The Royal Canadian Mint is giving collectors the chance to their own version of the Maple Leaf Brooch.
They have faithfully reproduced the brooch on a 2 ounce Silver Proof Coin, set with 100 individual lustrous stones, totalling 3 carats in weight.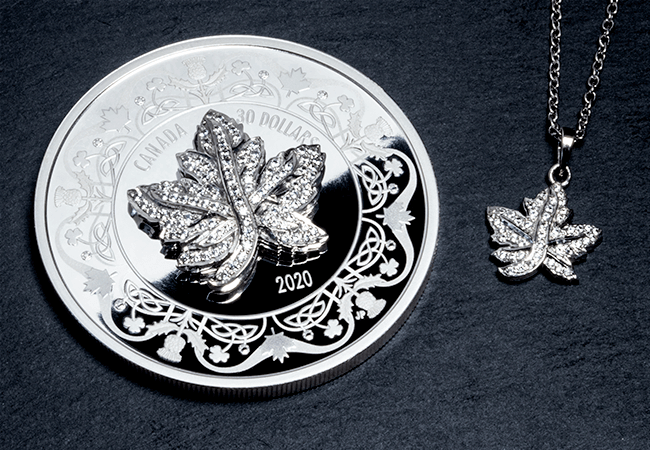 The Mint has also produced a Silver Pendant version of the Queen's Brooch and included it for free with the 2oz Silver Coin.
Just 3,000 have been authorised, so I expect these to sell quickly. How often do you get the chance to own a piece of the Queen's jewellery, albeit a reproduction?
---
If you're interested…
I was able to secure 50 of these stunning coins and still have a small number available.
If you're interested in owning the Queen's Maple Leaf Brooch 2oz Silver Proof Coin, just click on the link below.
Click here for the Queen's Maple Leaf Brooch Coin