An awful lot of Sovereigns have been issued during Her Majesty Queen Elizabeth II's reign – over 50 different individual years and that's before you consider all the various finishes from bullion to Proof.
There have been many significant Sovereigns during her record-breaking reign that could lay claim to being the most important QEII Sovereign, but there's only one first.
Whilst her reign started in 1952, Her Majesty would have to wait until 1957 for her first Sovereign. Post-war austerity extended the wait for a genuinely new Sovereign to almost 20 years.
But it was worth the wait as the 1957 Sovereign – beyond being the first of Her Majesty's reign – has a design quirk that NO OTHER Sovereign features.
Can you spot the difference that makes the 1957 Sovereign unique?
It's actually impossible looking at the Sovereigns front on like this.
You need to look at the ridges on the rim of the Sovereigns. That's where you will find the secret that makes the 1957 Sovereign unique.
It features a finely milled edge with 168 grains (ridges), whereas all other Queen Elizabeth II Sovereigns have just 108 grains.
That may not sound like much of a difference, but it actually makes 1957 Sovereigns instantly recognisable if you were looking at a stacked up bag of Sovereigns and collectors love anything that makes a particular issue unique.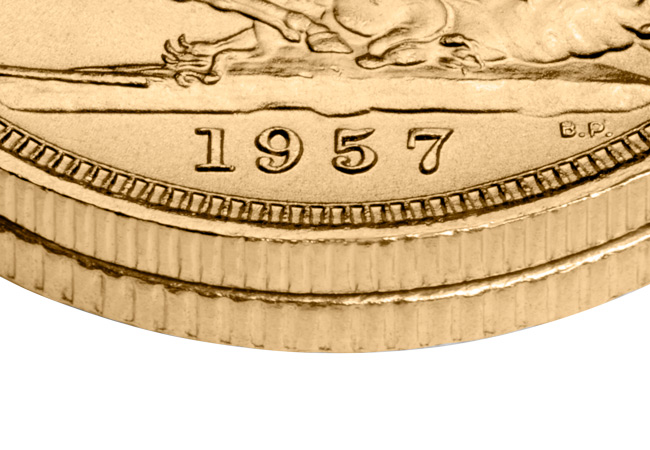 Couple this with the significance of Her Majesty's first ever Sovereign and you have one of the most important British coins ever issued.
---
If you're interested
I've secured a small number of Her Majesty's first ever Sovereign and am delighted to extend an invitation to you to add one to your collection. They are available for £695 or 10 interest-free instalments of £69.50 a month as long as they last.