One of a coin expert's most important traits is the ability to notice small details that can make a big difference to a coin's collectability and value.
You get the chance to test your skills today by looking at the same coin issued in consecutive years, but other than the year changing, what makes one coin markedly more collectable than the other?
The two coins you see below are meant to be identical (other than the year change obviously), but one is hunted for by collectors. Why?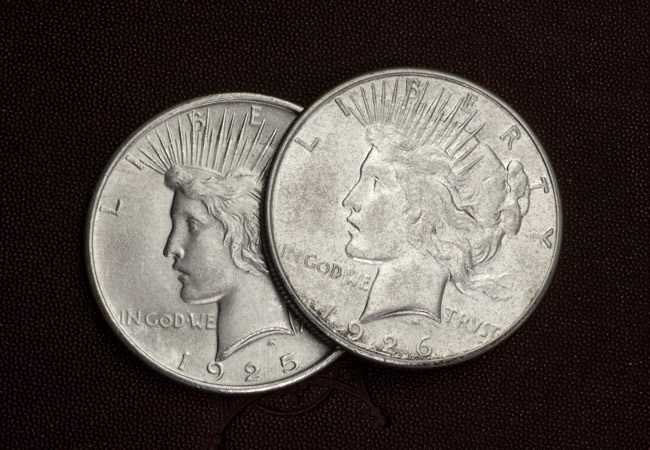 They are both Peace Dollars struck almost 100 years ago.
They were both issued by the US Mint and both were struck from almost 27g of 900/1000 Silver.
Despite being a year newer, it's the 1926 coin that holds the secret you're looking for.
A powerful 3-letter word
It's all because of the word "GOD" and how it is presented on the 1926 coin, being purposefully emphasised – the only time this has ever happened on a US coin.
To understand why it was given extra emphasis in 1926, you have to go back to 1920s America – a country struggling to find the balance between religious belief and scientific thinking.
It's a fascinating story that begins with the Butler Act of 1925. That was a Tennessee law passed to prevent teaching Charles Darwin's Theory of Evolution in schools, only allowing the Biblical account of mankind's origin to be taught.
The law was challenged later that year as high school teacher John T Scopes was accused of unlawfully teaching human evolution.
The "Scopes Monkey Trial" drew intense national publicity and big-name lawyers agreed to represent each side. William Jennings Bryan, three-time presidential candidate, argued for the prosecution, while Clarence Darrow, the famed defense attorney, spoke for Scopes.
Scopes was eventually found guilty and ordered to pay a $100 dollar fine (although this was subsequently overturned on a technicality), but the trial was about so much more than just one teacher.
The trial brought the Fundamentalist–Modernist controversy into the spotlight and was seen both as a theological contest and as a trial on whether modern science should be taught in schools.
The Silent Protest
Whilst the trial was playing out in the public gaze, an employee at the US Mint took it upon him- or herself to make their feelings known in the debate.
Pick up any 1926 Peace Dollar and you'll see the word "GOD" from "IN GOD WE TRUST" is far more prominent than any other year.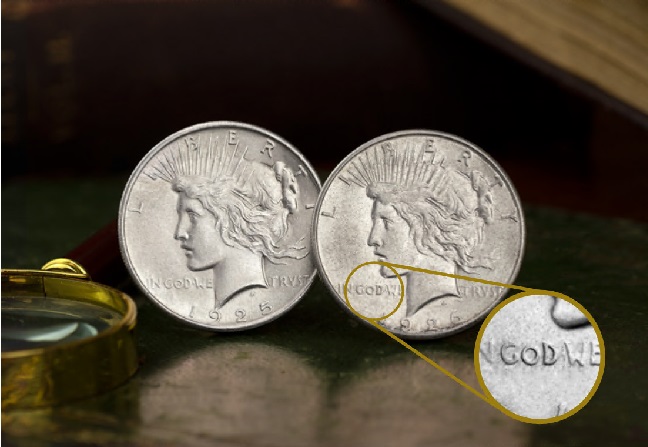 Without instruction from the powers that be at the US Mint, the employee in the engraving department wanted to emphasise their fundamentalist beliefs and literally emphasise God's place in America.
The actions of that anonymous worker created one of the most interesting and collectable US coins ever issued.
---
If you're interested…
I have been able to source a limited stock of 1926 Peace Dollars directly from the US and offer them now alongside a regular 1925 Peace Dollar.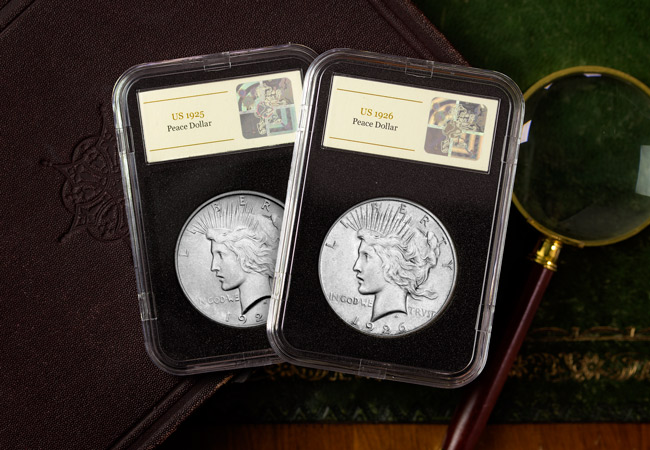 The pair is presented in a wooden presentation case and each coin is individually sealed in a tamperproof capsule to ensure their quality for years to come. Remember, these coins are almost 100 years old.
Click here to add the Peace Dollar "GOD" Controversy Pair to your collection today