We've all spent a lot of time looking at our walls during the Coronavirus lockdowns, but probably never considered that there could be a fortune hiding in them…
Maybe we should have though as a collection of gold coins dug out of the walls of a remote French mansion just fetched almost £900,000 at auction.
Stonemasons discovered 239 gold coins when they began renovating the property near Quimper in the western Brittany region.
The family put the coins into auction except a few which they kept as souvenirs. The estimated value was up to around £250,000, but bidding was frenzied, with the hammer eventually coming down just shy of £900,000.
Highlights included a very rare double Louis d'Or, depicting Louis XIV and dating back to 1646, which sold for just under £40,000.
The same price was achieved for a Louis d'Or from Paris dated 1640 and stamped with the Templar's Cross.
Auctioneer Florian D'Oysonville told AFP the coins, hidden in a metal box, probably constituted the savings of a rich trader or landowner.
Whoever they belonged to or how long they were hidden, it was an incredibly lucky find and one that makes you think those house renovations you've been putting off might just be worth it after all…
---
If you're interested…
No story about French coins and a big slice of luck would be complete without mention of Napoleon's Lucky Angel coin.
Legend goes that he kept a lucky Gold Angel on his person into every battle until, of course, he lost it the night before the Battle of Waterloo…
Now, to mark 200 years since his passing, The East India Company has produced this stunning Silver Proof Angel coin that has been exquisitely gold-plated.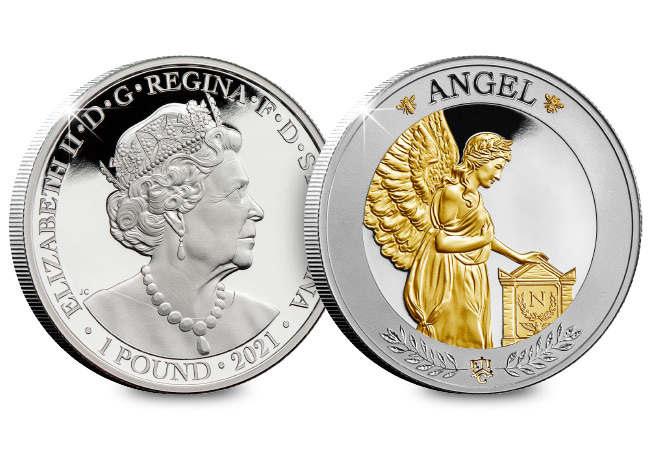 It has been limited to just 821 coins and I'm expecting a sell-out alert any moment now. I still have limited stock available though.
Click here to find out more about the coin and make one yours