Late last year, The Royal Mint held the first ever historic coin auction in its 1,000 plus year history.
The star of the show was meant to be an 1839 Una & the Lion £5 gold coin, which has been described as the "most beautiful of all English coins" and had an upper estimate of £150,000.
But whilst that achieved a respectable hammer price of £120,000, two gold Five Guinea coins sold for three times their upper estimate.
Let me tell you why.
They both feature the Elephant & Castle logo below the King's bust, which means the coins were struck from gold supplied by The Royal African Company.
Set up by the Stuart family in 1660 – 60 years after The East India Company was formed – it was led by the brother of Charles II and given a royal charter to exclusively trade and search for gold along the west coast of Africa.
Research revealed just how rare these coins are.
For the 1675 Charles II 5 Guinea, a total of only six examples of the elephant below bust passed through the British market-place in a 45 year period up until 2005.
Based on the research, entitled The "Samuel King" Survey, "The Rarity of Five Guinea Pieces – An Analysis", the date of 1675 is the fourth rarest for Charles II.
The same survey revealed a total of only 29 examples of the William III elephant and castle below bust passed through the British market-place in a 45-year period up until 2005, making these the most seldomly encountered Five Guineas of William III.
It pays to know the numbers. Clearly the buyers of these coins knew just how rare they are.
Both coins had estimates of £35,000 to £45,000, but the Charles II 5 Guinea sold for £130,000 and the William III 5 Guinea for £155,000.
That William III example last sold in 2003. For £8,000.
---
If you're interested…
A legendary symbol of Britain's wealth, power and prestige, the Guinea is one of the world's greatest gold coins since it was first introduced in 1663.
It became Britain's first truly international coin, being used by nations of traders as they explored the new world of the East.
Just as the Sovereign reigned at home, the Guinea dominated the Golden Age of the Colonies at the height of the British Empire's power.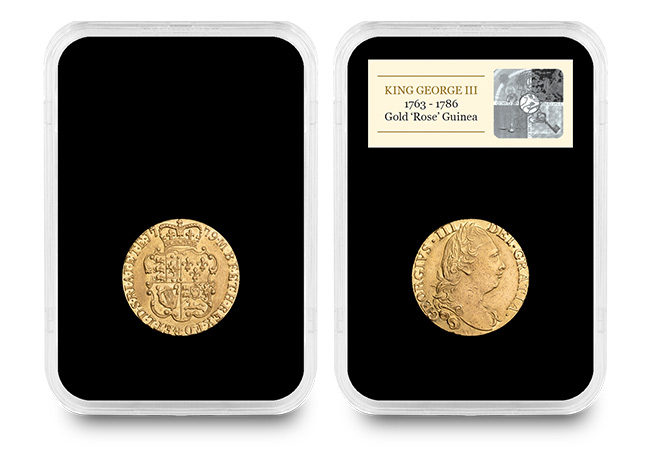 The coin you see here is considered one of the most extravagant and luxurious British coins ever struck.
It's the "Rose" Guinea, with the shield on the coin's reverse designed to resemble an open rose.
I only see a handful of these each year, but you can make one yours today for £1,700 (+p&p).