The Industrial Revolution rapidly gained pace during Queen Victoria's reign all because of the power of steam. Victorian engineers developed bigger, faster and more powerful machines that could run whole factories. This led to a massive increase in the number of factories (particularly in textile factories or mills) in Britain.
By 1870, over 100,000 steam engines were at work throughout Britain.
The industry depended on steam and steam depended on coal. The number of coalfields almost doubled between 1851 and 1881, which I think you'll agree, is staggering.
It is undoubtable that the technological advances achieved in the Victorian era, have directly impacted the progression of society in Britain and how we live today.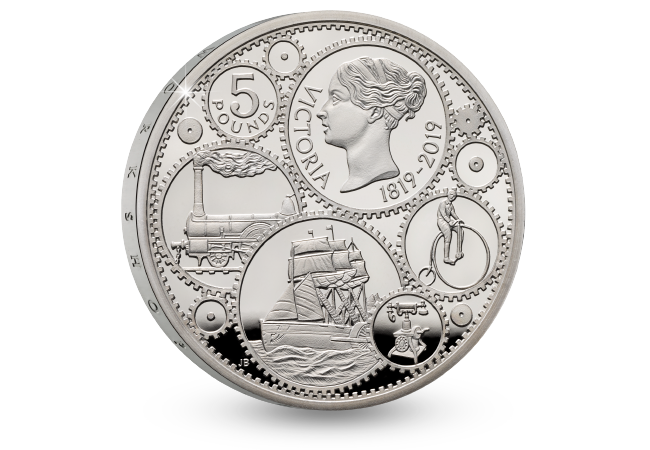 In 2019, to honour the 200th Anniversary of Queen Victoria's birth, The Royal Mint issued a stunning, intricately designed £5 coin. With an impressive 38.61mm diameter, the depiction of technological advances through the reign of the great Queen Victoria can be admired in magnificent detail.
This anniversary saw huge collectible demand for Queen Victoria commemoratives and they're now quite a challenge to source on secondary markets. And in just a few days, we celebrate the 125th Anniversary of Queen Victoria's Diamond Jubilee, so I'm certain we're going to see another spike in demand for Victorian commemoratives.
---
If you're interested, I have a very limited number of UK 2019 Queen Victoria Silver Proof £5 left in stock especially for my CPM Clients.