UPDATE: A new range of UK coins have been authorised for release to celebrate the King's Coronation.
The designs have just been revealed this morning and, importantly, it has been confirmed that a BRAND NEW portrait of the King will feature on the obverse of all coins in the range.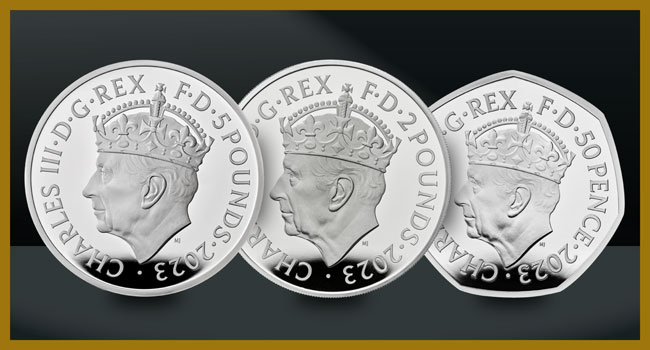 This is the FIRST TIME ever that the King will appear on a UK coin wearing a crown – the same crown that appears on the King's official Royal Cypher.
The portrait has been designed by renowned Royal Mint designer Martin Jennings – who also designed the first official portrait of the King.
Coronation Coin Designs
Included in the range are three different specifications – a 50p, a £5, and an Ounces range. All of which will be available in precious metal. Each one has a specially designed reverse to celebrate the Coronation.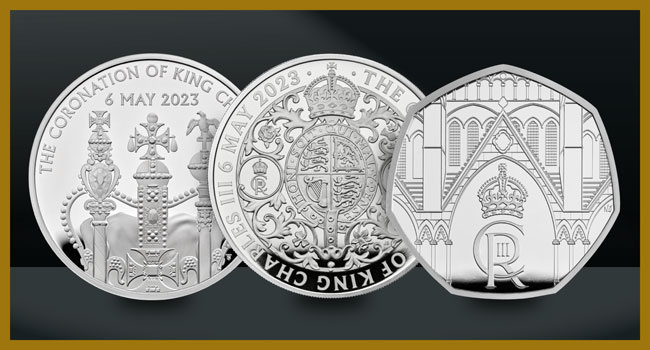 The reverse of the UK 50p will feature the Royal Cypher of King Charles III against a depiction of Westminster Abbey.
The £5 coins will feature a depiction of the St Edwards Crown which will be worn by the King at his Coronation. Notably, only the precious metal editions of the coin will feature the inscription "God Save our Gracious King".
Lastly, the Ounces range contains an elaborate design by John Bergdahl, highly respected Royal Mint artist.
The range will be available from CPM Prestige Gold and Silver Coins at 9am on 24th April 2023.
Sign up for updates
The excitement around His Majesty's Coronation is almost tangible and the appetite for coins commemorating it looks set to be at a level we've never before seen.
It means that you will need to be at the front of the queue when the official UK Coronation Coins are released.
Any delay means that you could miss out entirely.
Register your interest below to be the first to get updates.