The Carson City Mint closed permanently in 1893. Now, over 125 years later it's still making headlines.
It struck silver and gold coins between 1870 and 1893 (with a brief hiatus between 1885 and 1889) and many collectors hunt for coins that were struck here, identifiable by the "CC" mint mark. Most of them are rare and in high demand.
The eagle with the sky-high value
Just last month, an 1884 Carson City Gold Eagle was found in a submission of 14 gold bullion coins submitted to Professional Coin Grading Services Europe Office in Paris. It is now the second-finest known 1884-CC Coronet gold $10 eagle, graded and encapsulated by the grading service as Mint State 62+.
Now, 1884 Carson City Gold Eagles have a mintage of just 9,925 and most entered circulation so you can understand just how exciting it is to find one in mint condition.
So, perhaps it won't come as a shock when you hear the estimated value.
PCGS CoinFacts have estimated it to be worth $47,500.
The Morgan Dollar everyone is after
But the sky high prices for Carson City coins doesn't end there. The Mint also struck Morgan Dollars and it is these that are in particularly high demand.
On the 20th September a Mint State 64 1893 Morgan Dollar sold for $10,500.
This 1893-CC was the last Morgan dollar struck at the Mint so it really is no surprise that it sold for such a large figure. However, it might surprise you that it's not the Carson City Morgan Dollar with the highest estimated worth.
That title goes to the 1889-CC. 350,000 examples were struck but many were melted down making this date extremely scarce. Gainesvilles Coins estimates that a Mint State 63 example would be expected to fetch around $45,000.
And in fact just last year an MS-65 1889-CC Morgan Dollar sold for an astounding $180,000.00
And in July 2013 a MS-68 example set a PCGS auction record, selling for £881,250.00.
A new Carson City Morgan Dollar?
Remarkably, it's also rumoured that we could be seeing some new Carson City Dollars in 2021. They could be struck at the former Carson City Mint in Nevada, which is now the Nevada State Museum.
We'll be sure to let you know if this comes to fruition as a modern Carson City Dollar could prove to be as collectable as the historic versions, depending on the quantities struck.
---
If you're interested…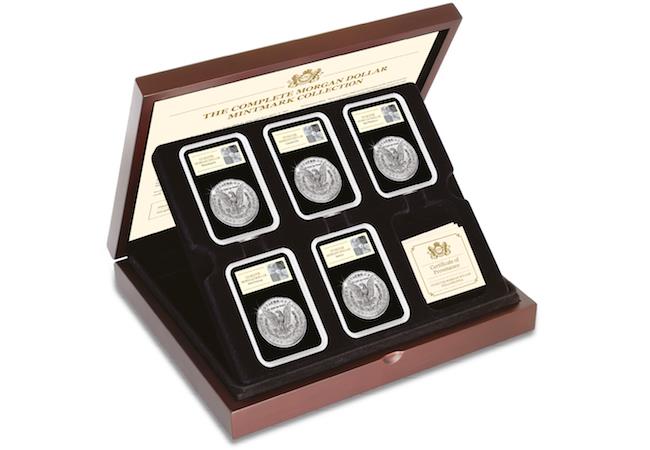 Today you have the chance owning the Complete Morgan Dollar Collection. It's comprised of a Morgan Dollar struck from each of the mints in America (including Carson City Mint).