The 1933 Double Eagle was all set to be America's last gold coin struck for circulation, but it was never issued because President Franklin Roosevelt took the United States off the gold standard.
445,500 were actually minted in 1933, but none were ever officially circulated, and all but two of them were meant to have a date with the melting pot, but things didn't quite go to plan…
More than twenty are known to have been rescued from their fate after being stolen. It wasn't long before they found their way into the hands of collectors, but it was a short-lived reprieve, with the coins later being recovered and nine of them destroyed.
It left just thirteen known examples, making this one of the rarest coins in the world.
And it could be seen as the Holy Grail for collectors because just one of these 1933 Double Eagles can ever be owned privately.
That's the coin that has just sold for $18.9m, despite having a pre-sale of estimate of $10m to $15m.
The seller bought the coin in 2002 for $7.59m, meaning that it appreciated in value over $500,000 per year that he held it.
The coin, with the distinctive design of an American eagle in flight one side and Liberty striding forward on the other has a face value of $20, so who knows, perhaps the next time it sells it will go for over one million times its face value.
Where are the other twelve examples and how can you or I get our hands on one? Well, the two intentionally spared coins are in the US National Numismatic Collection and the other ten are held in the United States Bullion Depository at Fort Knox, so I don't fancy our chances of getting hold of them…
---
If you're interested…
You now have the chance to own the ultimate example of the ultimate classic American Coin; The Morgan Dollar.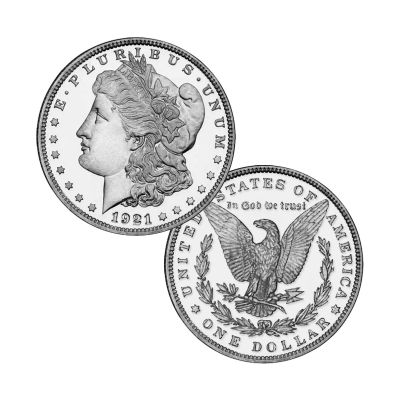 Graded MS65, the last year of issue 1921 Morgan dollar, it one of the best you could hope to own. That's just 5 points away from a perfect MS70 grading – a score that no Morgan Dollar has ever achieved. Click here to secure one of the last Morgan Dollars ever issued >>