I want to take you back 150 years ago today and on a hop across the pond to what is now Canada.
But Canada wasn't Canada until 1967 and there were no Canadian coins until 1870.
When the UK transferred most of its remaining land in North America to Canada in the summer of 1870, the Canadians needed coinage.
The central government assumed responsibility for money and banking and undertook to legalise its own currency, with Ottawa issuing a new series of coins in the denominations of 1, 5, 10, 25 and 50 cents.
1870 Canada 50 cent sterling silver coin.
$225#numismatics #silver #coins #canada #victoria #queenwest #rulebritannia #anglophile #coincollecting #toronto #history #queenwestshopping pic.twitter.com/ZEMfPhmzm7

— Kingpin's Hideaway (@71DuncanSt) May 25, 2018
The coins were legal tender in the four provinces that signed the Confederation Act – Ontario, Quebec, New Brunswick and Nova Scotia.
But they were struck by The Royal Mint here in the UK, so whilst waiting for the shipment of 1870 coins to arrive, the government issued 25-cent notes.
These were nicknamed "shinplasters", named after similar US notes that were reportedly used during the American revolution as boot liners.
I went to the bank today…. they were pretty giddy about a client coming in with this. It's real. My Dad calls it… Shinplaster" @RBC_Canada pic.twitter.com/4hrWlkYTrf

— Greg Hetherington?? (@GregCKL) March 7, 2018
The shinplaster would be put in front of a soldier's boots to cushion his shins against chafing. As money, the notes were perceived as almost worthless compared to hard currency such as gold and silver.
Eventually, The Royal Canadian Mint would be founded – on 2 January 1908 and it's fair to say they've come a long from "shinplasters", building a reputation as one of the most innovative mints in the world.
---
If you're interested…
Whilst the people at The Royal Canadian Mint may be famed for their innovation and forward-thinking, they're also keen to commemorate their past and the set you see here is testament to that.
This Silver Proof Set was issued to celebrate the 150th anniversary of the first Canadian coinage in 2020.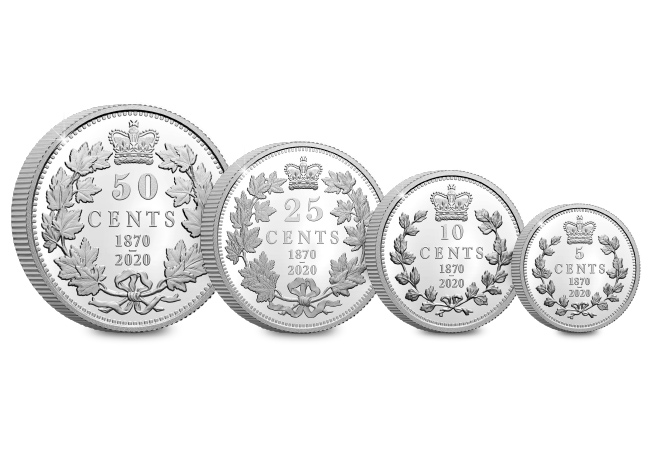 The set was produced as a special Canadian project, with the entire edition limit of 850 being struck for a Canadian coin dealer.
So they were sold out at the Mint from the start, meaning all but a few collectors will never even know these exist.
But I was able to bring a few into the country thanks to my connections in Canada.
This is your chance to be just one of a handful of people in Britain to own this fascinating set.