Her Majesty Queen Elizabeth II committed herself to a life of royal duty, earning the affection of generations here in the United Kingdom, across the Commonwealth, and around the world.
To preserve her majesty's memory after her passing last year and the profound impact she made on countless lives, a breathtaking collection of memoriam coins has been unveiled – a testament to her tireless devotion to duty, and unwavering commitment to her people.
Each commemorative coin in this new collection serves as a token of remembrance – discover the intricate details and heartfelt symbolism woven into these coins.
Explore the range below…
Double-thickness Silver Proof £5 Piedfort: Queen Elizabeth II In Memoriam
Meticulously crafted from sterling silver to a stunning Proof finish, this new £5 Piedfort features an original design by specialist heraldry artist, Neil Bromley.
What is so poignant about this design is the quote from the Shakespearean play Hamlet, "May flights of Angels sing thee to thy rest" which were the touching words expressed by her son King Charles in his speech on September 9th, the day after he acceded the throne.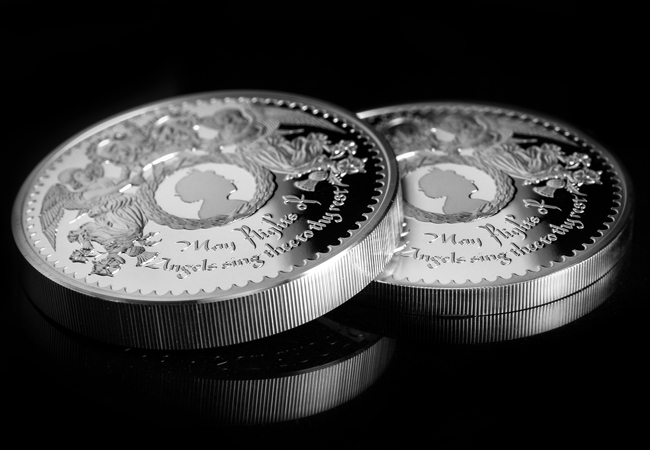 Click here to secure the Queen Elizabeth II Memorial Silver Proof Piedfort £5.
A reign to remember through the Silver Proof £5 set
In a heartfelt tribute to a reign which shaped history and touched countless lives, a British Isles Queen Elizabeth II 'In Memoriam' Silver Proof £5 Collection has been released, one year after Her Late Majesty's passing.
Each coin has been officially approved by Buckingham Palace and has been struck from Sterling Silver to a pristine Proof finish.
Featuring three unique designs, this brand-new set honours Her Late Majesty's extraordinary life, unwavering service and ever-lasting grace.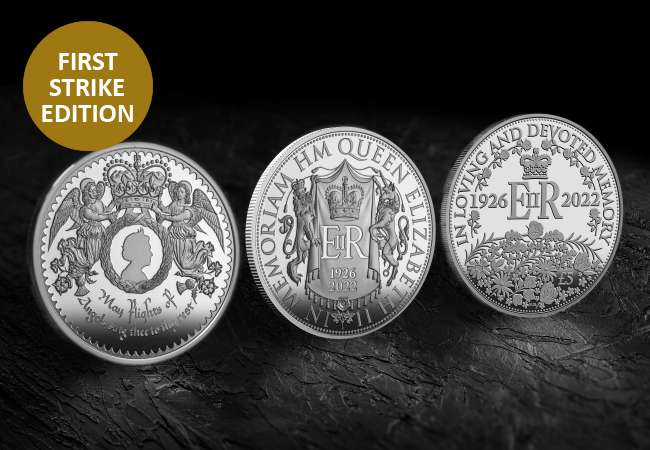 Click here to be one of just 150 collectors to own the Queen Elizabeth II Memorial First Strike Set.
A true gem for your collection – the stunning Silver 5oz
Struck from five ounces of Pure Silver, the 65mm diameter is the perfect way to show off this fantastic tribute.
Fully approved by Buckingham Palace, the Queen's funeral wreath of symbolic flowers: Rosemary, Geraniums, Dahlias, English Oak, and Roses are wonderfully depicted.
The Inscription 'In Loving and Devoted Memory' is taken directly from the handwritten card that accompanied the wreath.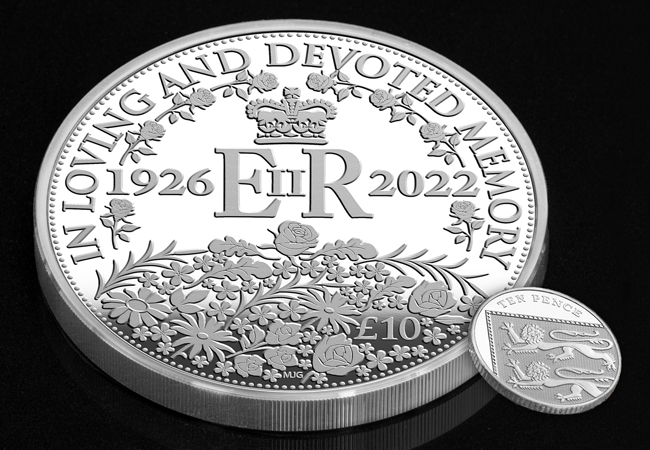 Click here to secure the prestigious Silver 5oz Coin for your collection.